Hello, today I will be talking about episode 7 of WandaVision.
Episode 7, this episode was crazy!
In the beginning of the episode it was set in modern times,  they were taking kinda like a modern family episode. The Twins were still 10.  Right off the bat Wanda talked about how she extended the border of her fake reality. Then everything was glitching and turning back in time. Vision was still by the border and was not at home. Darcy was in the town and she was playing an escape artist. Vision remembered her and took her off Wandas mind control, so she knew who she was.
Outside of the Hex Monica and Jimmy were driving to Monicas special person she called to help her, it wasnt who anyone thought but thats fine. Monica has already been in the Hex before. At the beginning of the series, then she came out, her cells were changed, they were just energy. So her cells were re-written. Then she needed to go back in to tell wanda that Hayward is going to find Vision and use him as a weapon. And that cant happen. So Monica gets this truck thing and she has to go in and she does not want to be controled because she wants to help Wanda. Anyways she gets in the truck and she is trying to get in but its changing the truck and she escapes, then she just walks in and she gets these powers, just like in the comics.
Below on the right is Darcy, in the middle is Monica and then on the left is Jimmy.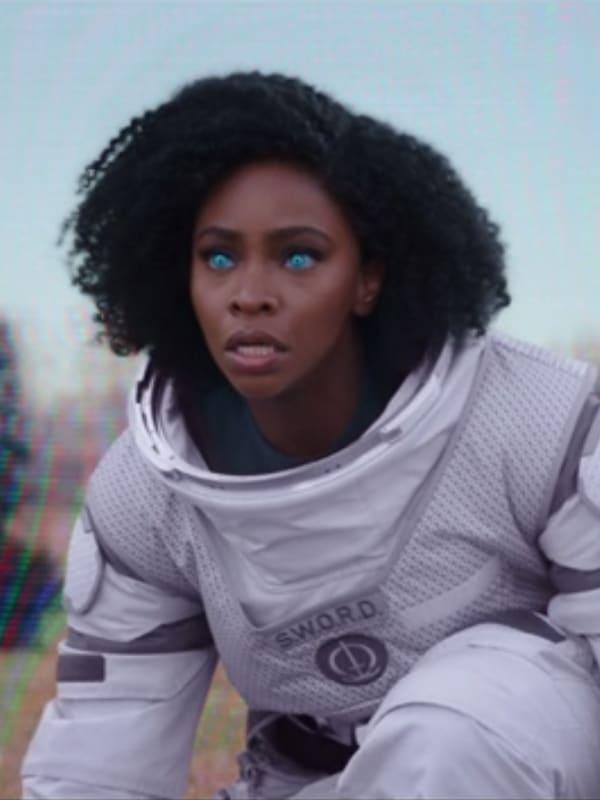 Back in the Hex:  The Twins (Tommy and Billy) are complaining that their game is not working because everything it glitching and going back in time. Wanda tells them that she doesnt have to answer to everything. And they ask about Peter or Pietro what every one they want him to be, because He said "Its not like your dead husband could die twice" to wanda in episode 6. And wanda told the twins that he is not their real uncle. Then Agnes takes the Twins (Tommy and Billy) to her house to let Wanda have some alone time.
Vision and Darcy have to get home but they think Wanda doesnt want them to get home so there is kids crossing the road and red lights. Then Vision just flies through the top of the car and goes home. Darcy is left to drive herself home.
Back with Wanda. Wanda goes over to Agnes' house. The Twins are not there, there is half eaten peanut butter sandwiches left on the table, There is a T.V show on. But where is Billy and Tommy! Agnes tells Wanda they are in the basement. So Wanda goes to look for her children.  She is in the Basement and there is some weird stuff going on. It is all purple magic and wood everywhere and a magic book! Agnes comes downstairs and reveals that she is not Agnes but, Agatha Harkness!!! She is a Villain in the comics. I knew that was her. She sang a song about how it was her who first messed with the talent show, then brought Pietro to Wanda! Agnes tricked Vision and killed Sparky. Its all Agnes!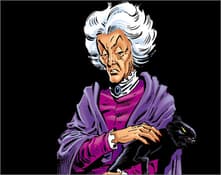 Above is Agnes (Agatha Harkness) In WandaVision when she reveled herself.
At the end of the episode not one of the other 6 episodes have had a post-credit scene, but this one did! It was Monica trying to get into either Wandas house or Agnes' house. Then Peter (Pietro) came and said to Monica "Snoopers gonna snoop." I was surprised by that he is still here. Because I dont think Wanda wants him there anymore.
To explain Peter or Pietro, In Age of ultron Aaron Taylor-Johnson played Pietro (Quicksilver). Pietro was Wandas twin brother and when he died she was heartbroken. So that was that. In X-Men Evan Peters plays Peter Maximoff. (Quicksilver) Because X-Men doesnt have anything to do with The Marvel movies. It was really weird seeing Evan Peters play Pietro. And Peter is from a different universe.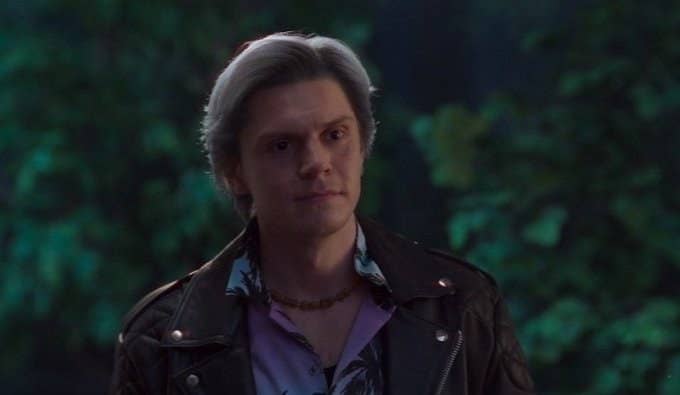 Above is Evan Peters, he plays Pietro in WandaVision and Peter in X-Men, Below is Aaron Taylor-Johnson and he plays Pietro in Age of Ultron.
This if you dont watch marvel stuff or stuff along  the lines this wont make sense.
Also S.H.I.E.L.D never knew who Agnes was outside of the Hex. Everyone else was accounted for, not her. And this was in the episodes way back. And this proved my point that she was behind it all.
Thank you for reading my blog. Bye